Description
Clean Your Home with Our Monthly Maid Services in Dubai
Are you a resident of Dubai? This means you are working a job and have a hectic schedule.
Don't worry. This is a common way of living. However, one problem is that when people are experts in their jobs, they forget to look at the maintenance of their houses.
You can now get monthly maid services in Dubai. These services are a perfect fit for your busy schedule. At Service Express, we offer you a wide range of the best cleaning services.
We proudly offer you the finest and most reliable online cleaning services. As a busy Dubai resident, you can now enjoy the ambiance and peace of your house with our services!
Choose our Monthly Maid Services cleaning plan and an accessible time and day to get started. You can specify whether you will be providing the cleaning supplies or that our personnel brings their own in the instructions input line if you have any specific instructions!
Hire Our Monthly Maid Services in Dubai
Our core aspect is to focus on providing professional monthly maid services. We have an expert team of highly professional maids.
Moreover, these maids are trained to align with the idea of how to clean every corner of your house!
Why choose us?
Welcome to the plate book of Service Express. We provide you services based on your choice. Moreover, you can choose weekly, monthly, or one-time services. Professionals train these services with years of experience. However, we make sure you are satisfied with the results.
Features of booking a maid-services in Dubai
We guarantee the same housemaids in Dubai on all weekly and biweekly reservations so that you may have your home cleaned by the same cleaning service each time. However, on a schedule that complements your life, we entirely work for you. The maids can receive directions from you. Moreover, the cleaner would complete the task as instructed, improving and beautifying your home. You can count on us for the best weekly and monthly maid services Dubai offers.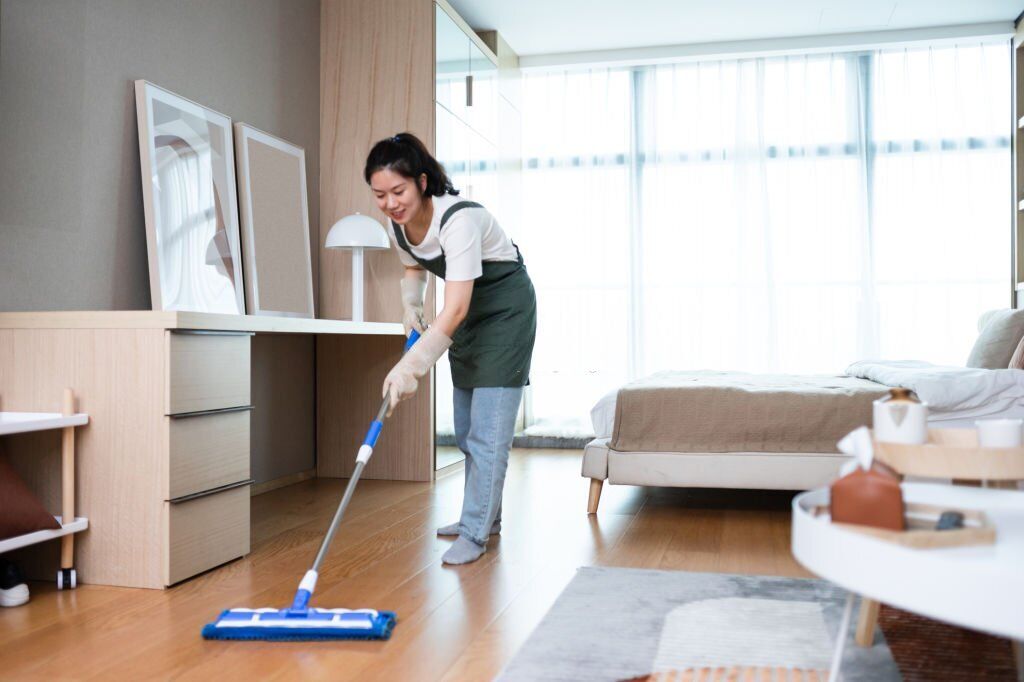 Location of our services
All major areas of Dubai are covered with Service Express. We are easier to reach whenever you need a cleaning service. Moreover, we will be at your doorstep with just a tap. Depending on your location, you can get benefits on the same day. However, the maid will be sent to your apartment, and everything will be clean and shiny in 30 min to 2 hours.
Let Your Home Shine with Our Skilled Maids
Service Express is not a regular cleaning service. What makes us different is the belief that we can provide you with ease with our services. Moreover, our company aims to build a personal rapport with our clients. We make the best efforts to establish long-term connections with our clients.
We aim to provide you with satisfactory results that make you happy. If we fail to do so, we will give you every assistance to make it right.
Our timings are well-designed, and we reach your doorstep as soon as you book us!
Cleaning is the most significant component of our lives, in our opinion. Moreover, our experts believe nothing can truly match the feeling of returning home after a long day. We offer thoughtful
Monthly Maid Services in Dubai
in all departments.
We provide a wide range of alternatives for your every requirement, from managing businesses to managing offices, from cleaning villas to houses. Moreover, when you use our regular cleaning services, you may hire a professional cleaner to transform your home into a germ-free, spotless space. However, our team of skilled cleaners will thoroughly clean your room!
Get the Best Premium Services in Customizable Packages
We Service Express are the best source for your cleaning needs. If you want to rely on a service provider with all the efficient services for you, then there cannot be a better option than us. Do you have any inquiries about Monthly Maid Services in Dubai? Now get in touch with us. You can call us at the numbers provided on the website to make a booking for your house cleaning services! Choose the category of services you need from our booking menu, and a representative will contact you to discuss the next steps. Once everything has been resolved, the maid will come to your door the following day!
FAQs:
Do you have maids in training?
Yes! We believe in the quality of service. Hence, every maid we onboard are provided with the best training and equipment to ensure you can achieve the most out of their service. We have trainers with cleaning experiences of over 15 years.
Is it possible to interview the maid before booking?
Yes, if that makes you feel more comfortable with the service, we will surely provide it. We believe in winning your trust, and everything can be done to ensure that you fully trust us.
What is the price of maid service in Dubai?
During the interview stage of Monthly Maid Services in Dubai, the potential maid and the employer agree on salaries. Depending on this agreement, the sum may change, and additional perks are frequently offered.
What does our housekeeper in Dubai do?
In Dubai, housemaids offer cleaning services for private residences. It entails washing the floors, and windows, dusting, vacuuming, etc. Cleaning firms in Dubai provide both hourly and full-time maid services.