Description
Choose Leading Home Disinfection Services in Dubai By ServiceExpress
Finding the right company for your home or office for sanitization and disinfection is very difficult. It is important, too, in this duration of COVID-19. For the deep cleaning of the home or office, people use soap and detergents. But it is a very tiring task to get rid of harmful bacteria, viruses, and allergens.
So, here is the need for home Disinfection services in Dubai. It not only helps in the cleaning to kill all harmful surface germs and other microorganisms. But also sanitize the place with the best sanitiser to keep your space safe!
Further, the experts of the company focus on safety measures. In this way, they make sure the hygienic and healthy environment of the place. Service Express is the leading cleaning service in Dubai, with many other services. We offer curtains, carpet, water tank, sofa, and another cleaning!
How We Make Your Home Sanitized? We aim to provide cleaning of the entire home to kill 100% of germs present in each spot of your place. Commonly germs are present on the door knobs, windows, switches, basins, and washrooms. Our experts use chemicals that have no odor or color and are safe for human health.
Service Express offers you disinfection and sanitization of the entire space. Whether you have to clean your residential or commercial space. Our Disinfection services in Dubai are on the way to go for. Our experts sanitize the kitchen, upholstery, and laundry. So, you can call our experts any time of the day.
Most of the time, it becomes difficult to remove harmful germs by using standard methods. It is the point where you need to take services to keep your home clean and kill germs. The Sanitization services in Dubai use UV equipment to disinfect and sanitize the place. The experts use UV tools at each place, like doors, walls, curtains, home appliances, and more.
Our Other Cleaning Services Home disinfection services in Dubai use fogging, UV light, and pumps to kill germs. So, no need to worry about the difficult-to-reach surfaces. We ensure the sanitization and disinfection of a place where you have never thought to reach!
House caring services
Proficient and inexpensive house sanitization services
Blind Washing
Best blind washing services in Dubai.
Rug and carpet washing
Best rug and carpet washing services in Dubai.
AC Pipe Cleaning
Trustworthy AC pipe cleaning in Dubai.
Bed washing
We offer bed-washing services, which include vacuuming and shampooing
Water Tank Washing
Need Disinfection and Sanitization Services?
Daily cleaning of the home is very important to keep it safe for human health. People clean their homes daily, but it doesn't mean they clean them effectively. However, the commonly used detergents and soaps can clean your space for a day. But these are not a good option for a month's cleaning.
The deep cleaning of the home includes sanitization and disinfection. So, you must take the Home disinfection services in Dubai. However, it is important to clean home once in the home from viruses, bacteria, and germs. The use of the super quality disinfection products is better than using common detergent.
Use the services of Service Express to keep your place sanitized and disinfected. We ensure that our cleaning formula can kill almost 99% of germs. So, take our service for a month and keep your home clean!
What is Special about Our disinfection & sanitization service?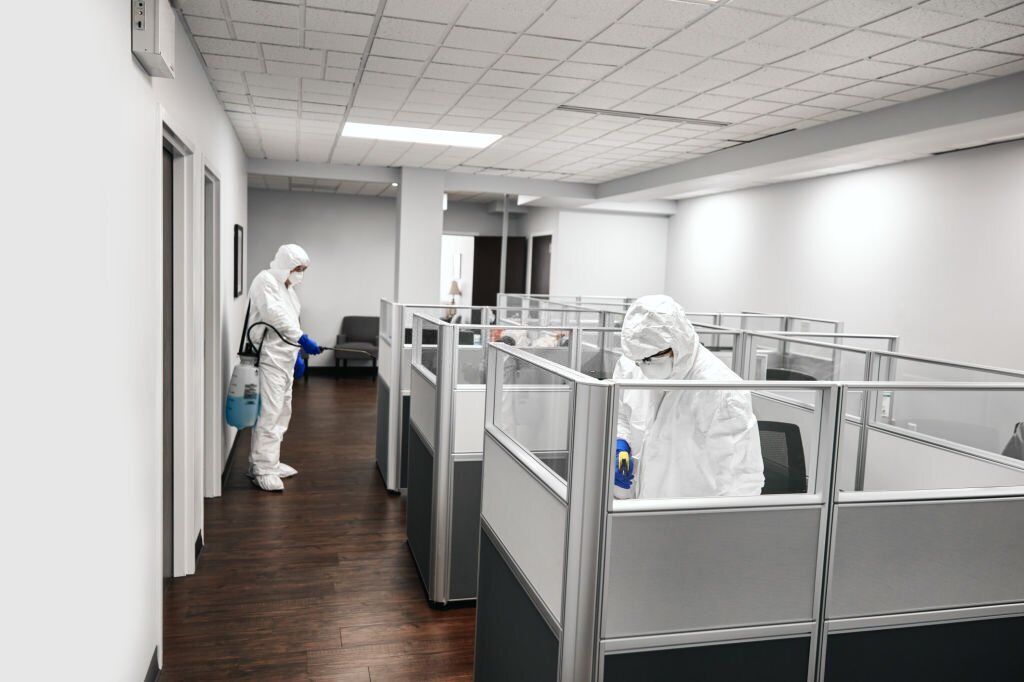 Office disinfection services Dubai use vital oxides and Bacoban for cleaning:
EPA listed
Hospital purifier
Execute 99% of germs
Convert into salt products without dangerous products
Disinfection services in Dubai are quick and efficient enough that they do not remain in your home for a long time.
We use safe products to clean your space which has no harmful chemicals. So, these products are safe for human health. However, Service Express offers quality services at a cheap rate!
Avail Our Safe and Eco-friendly Cleaning Solutions:
Home disinfection services in Dubai use a natural, eco-friendly, and watery solution. It means the solution is without alcohol and safe for use. However, it does not cause any harm to the environment, individuals and pets.
Besides, the cleaning formula can kill almost 99% of germs, bacteria, and viruses. So, you can keep the surface safe and clean for a month after using Sanitization services in Dubai.
How does our disinfection and sanitization process work?
We spray the disinfection and sanitization solution to form a protective layer.
The solution attracts many germs and pathogens from the surface
After contact with the spray, germs and pathogens get killed
The professionals of Service Express follow preventive measures. They wear the PPE kit during the cleaning process. It means they care extremely for hygienic standards.
However, Our Office disinfection services Dubai are available for customers all days a week. So you can contact us whenever you need our cleaning services!
Why Choose Us?
Cleaning of home or office is very important for killing harmful germs and microorganisms. So, you must keep your place clean by taking our Sanitization services in Dubai. This way, you can keep your place clean for almost a month by killing 99% of germs.
Service Express is the best solution to keep your space disinfected and sanitized. We use the best formula to leave a protective layer in your place. However, our formula is strong enough to kill germs for a month when a germ comes in contact.
Office disinfection services Dubai will use this formula in each corner or spot of your place. So you do not need to worry about cleaning any spot!
FAQs:
How to get our sanitization and disinfection service?
You don't need to do anything else; just fill the form with data, time, and other information. In simple words, hiring Office disinfection services Dubai is like cleaning services.
What's the price for this service?
The cost of Home disinfection services in Dubai is based on the size of the home or office where you want to get service. So, you have to check what the size of the place is.